Funding Hope!  Delivering Research Funds for Nanoparticle Research.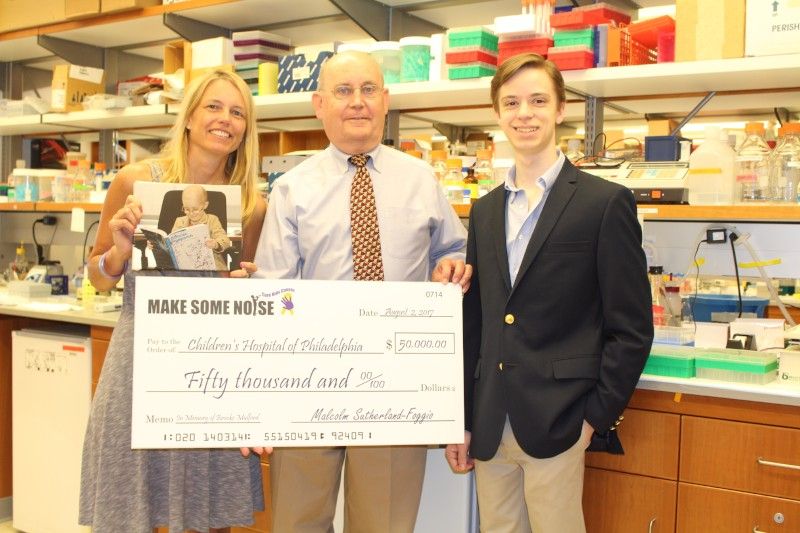 August 18, 2017
In memory of our friend Brooke Mulford, we delivered a check to Dr. Garrett Brodeur at the Children's Hospital of Philadelphia yesterday, for his exciting and promising nanoparticle research. Dr. Brodeur's research is developing technology to smart bomb agents into tumor cells, delivering 500 times more drug directly to the tumor and doing significantly less collateral damage to other organs and systems in a child's body. The early results in the lab are very remarkable. We can't wait to see how this technology progresses for neuroblastoma ad other solid tumors.
Brooke's mom, Amy joined us to help hand off the funds to Dr. Brodeur in Brooke's memory. Huge thanks to all our supporters for making this donation possible, and particularly to the very generous match providers and those who contributed to the 4 Day Match Challenge we held in Brooke's memory.
Thank you to all our supporters for allowing us to keep funding exciting research so that one day the cures will be found!
Thank you to the awesome supporters who jumped to help us win the Match Challenge and double our research gift: Barbara Amabile; Tabare Borbon; Valerie Felgoise; Cynthia Feeley; Lauren Fisher; Marlene Foley; Robert Foggio; Gretchen Giebels; Rebecca  Gregory; Michelle Heindrichs; Alan Jaffe; Mary Kenney; Marianne Kozlowski; Pam Lipka; Jeremy Lippenholz; Michael Mazzola; John Porcek; Adam Sherman; Dona Teschner; Raj Thillairajah; Maria Waldman; Guy Yandel; Debbie Zajkowski, and three anonymous donors.